Anyone who knows me knows how into music I am, and I think it's always important to support local bands. Because sometimes their music is the best. In the last few years, I've discovered a lot of my favorite music that way and they're generally the nicest people too. But I digress and am going to back up here because a bit of backstory is important.
About a month ago, Lisa asked me if I'd be interested in going to see a local band called Seventh Room with her at Copperfields in Boston. I came up from the Cape that day where I had been at my grandparents, and off we went. Unfortunately, the sound was so horrible at Copperfields, all I could hear was music. And noise. I couldn't hear any of the vocals, and since I was not familiar with their music at all, I really didn't enjoy myself. I felt bad mentioning it after to them, when Ian asked me what I thought, but it was the truth. But I did get a CD that night and when I finally had a chance to listen to it - I loved it. So when Lisa asked me if I wanted to go to the Guru Room with her last weekend, I said absolutely - even though it's a long ride - it was totally worth it.
The Guru Room is an interesting venue. It's a small Indian restaurant with a music room in the back. Its a unique space, with a stage in front, a bar on one side and some seating on the other side - leaving a good size space in front of the stage. If I had to guess - it maybe holds 300 people total. And I very well could be overshooting that. Lisa and I walked into the room as the first band was playing (who's name I don't remember). They looked 12 (probably couldn't have been more than...16-17 at most), and while their music wasn't bad, I had a hard time watching them. They finished up and the second band (who's name I also don't remember - I wasn't taking notes!) took the stage - as Seventh Room was playing last. This band was definitely better - they had a great sound and had a group of people up front dancing during the end of their set. They finished up and Seventh Room took the stage around 11:30.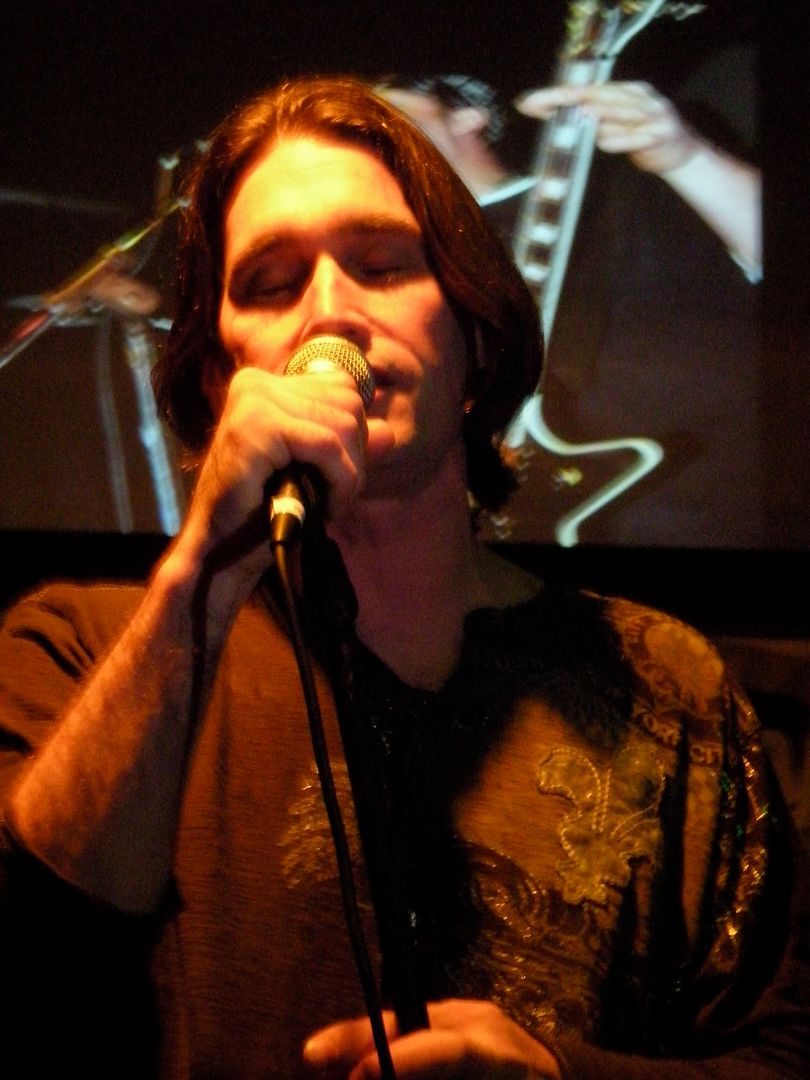 The best way to describe Seventh Room's music - at least to me - is a throwback to grunge 90's rock. They almost remind me of Soundgarden, or Bush. I think its why I like it so much because I listened to a lot of it in high school. Standing so close to the stage near the speakers was a little rough with the sound (it was much better in the back of the room) but I still enjoyed myself and knowing the music this time around helped. Besides, I wanted to take pictures and I don't have enough of a zoom on my camera to stand in the back and Rob's voice is rough and gravely, but it works with the style of music.
Everything they sang was original, only one of which (
Reasons
) is off their current CD,
Meanwhile.
(Find it, its good). The setlist was:
Behind • Bend the Sky • Piggie • Good or Bad • Step Down
Reasons • Almond • You're Mine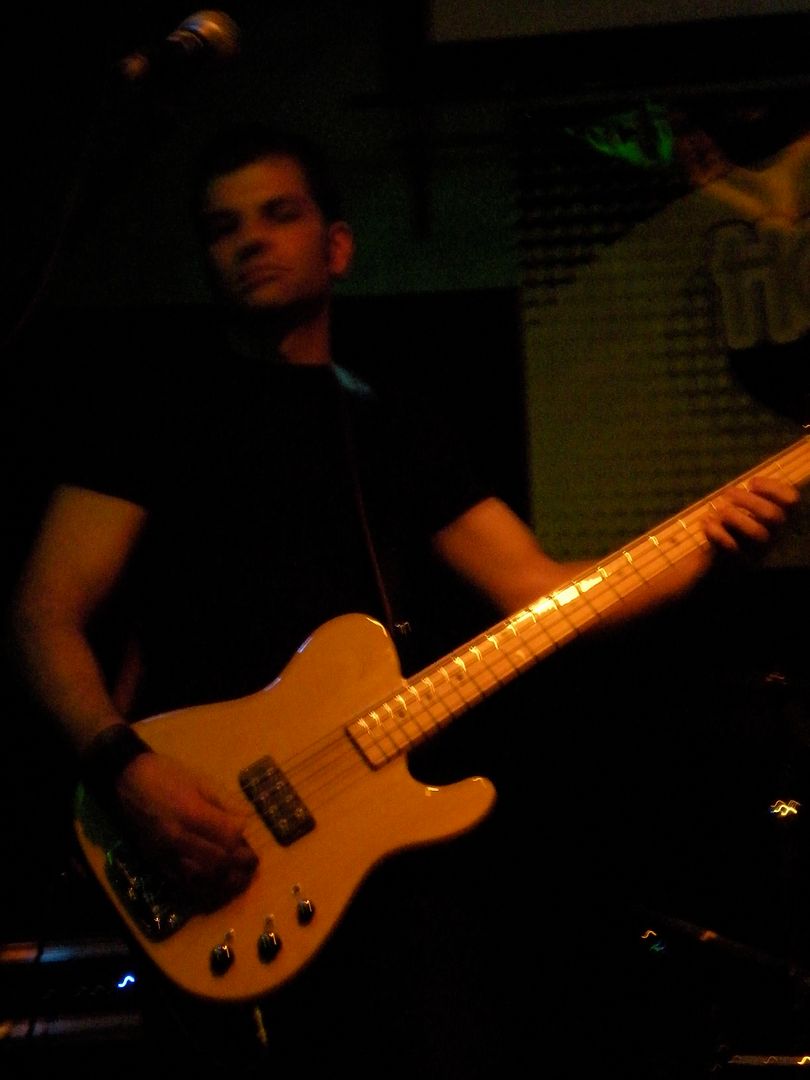 I am hoping that at some point, I do get to hear the rest of those in studio form, because they're good and I would love to be able to plug my headphones in and just..listen. Watching Ian and Paul play is probably one of my favorite things. They are so immersed into their music, so in tune with each other as well as Mike and Rob musically, and they are fun to watch. Ian's hard to take pictures of because he jumps all over the place, and Paul frequently steps back into the shadows, but its worth it. These boys are amazing at what they do and their technical skill as well as passion for their music come through live.
After they finished playing, Lisa and I hung out with them for a little bit, unwinding from the adrenaline that comes with live shows. They're not just great musicians, but they're great guys too. I feel like they're not just a band. They're just regular guys who happen to be in a band - and therefore very laid back. I can only hope for the best for them. They deserve it. Check out their website, I've linked to it in the sidebar, and if you happen to be in the area, check them out. They put on a great live show!
Their next show is July 24 at the Guru Room in Plymouth.