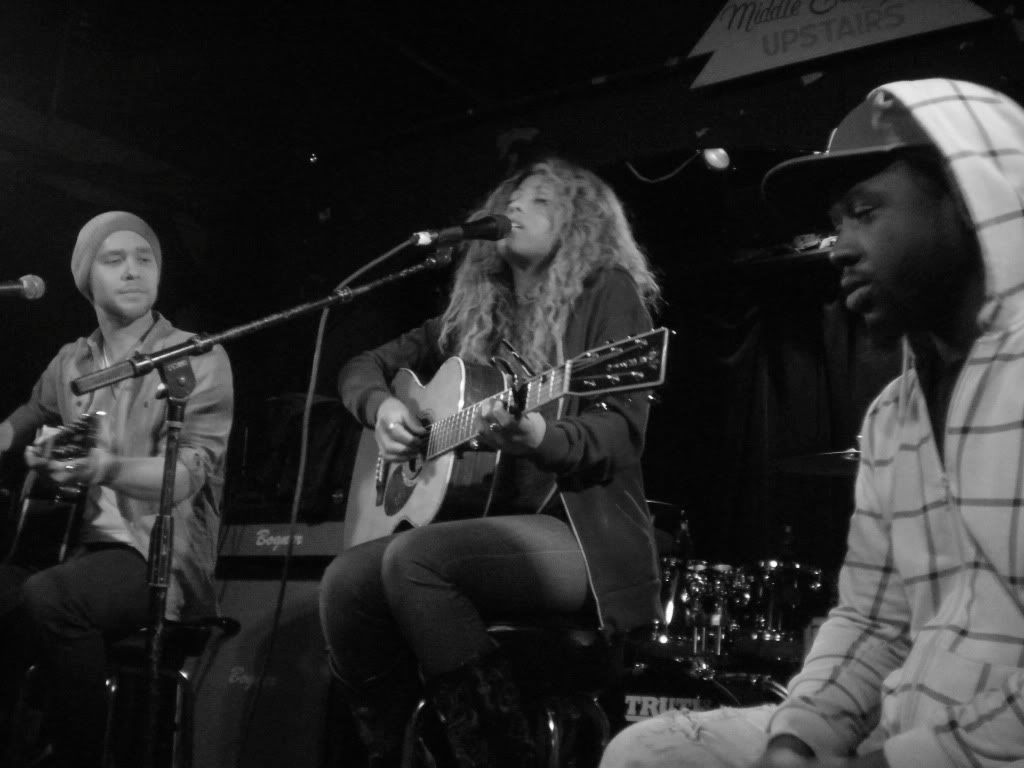 Hope opened the show around 8:45 with her guitarist Mike and percussionist Manny and was absolutely adorable. It was her first tour, and had Ryan not said something about it later in the show, I never would have known. She was poised, had a great amount of stage presence and her songs were great. She only sang 5 songs, but I found myself jamming along at times and really getting into it. Everyone in the room was very polite and responsive to her as well, which is always nice to see. I hate it when I go to a show and the crowd is rude to the opener because they don't care. Hope played for about a half hour and I think I'm going to have to investigate some of her music further. She wrapped up around 9:15 and the stage started to get turned over for Days Difference to play at 9:30.
Speakers
before! The only criticism that I had about their set was that the keyboard that Jeremy played through most of the set was too high so all I saw was a floating head above it. He did come out from behind it for a few songs, but the keyboard absolutely blocked not only him, but Jeremiah and also half the stage. It might have been the fact the room was small, or we were standing so close to the stage, but even if the keyboard had been lowered just a tad, it would have been better.
Brand New Day, Right Now, 11:59, Last Train Home
(with the new arrangement Dallin and Ryan came up with, which is gorgeous),
Breathe
and
Start a Fire
, as well as some older favorites off of the Elephant album -
Psycho Suicidal Girl, Waiting for Love
and
The One You Know
. The set ended with
Back of Your Car
, which is one of my favorites. Its such a dirty song but I love it so much and the perfect way to end a show. The song has such sexual energy to it - I love it. I videoed some of the set, catching
The One You Know
(which I had never heard before live),
11:59
and
Start a Fire
. During
Start a Fire,
Ryan grabbed my camera and filmed the crowd and him singing before tossing it back to me. The only thing I could think of during the time he had it, was "please keep recording" - as the battery was dying and I wanted to make sure the video kept recording! It had indeed, and the video is pretty awesome.
All photos are here
. Please credit if used.
Start A Fire
11:59
The One You Know