So I'm doing things a little out of order here, but that's what keeps life interesting, right? I originally wasn't planning on going to this show, since it was a Sunday night and weeknight shows can be hard for me with travel and work. But I was already going to be in NYC that weekend for the Culture Fix show the previous Friday so with a little bit of convincing, I decided to stay the full weekend and wrap my 4-show run at the Studio at Webster Hall. I'm so glad I did - it was one of the most awesome shows I've been to. But let me back up and start at the beginning.
The kids from the
Waldwick School of Rock
opened and we walked in about halfway through their set - I've seen them before and they are insanely talented. Seriously, if you're anywhere in the vicinity that they're playing, go. It's worth it. I only caught the last 2 songs that they did before they finished up and the second opening band - Alternative Addiction - took the stage. They were pretty good and played for about a half hour or so. After they finished, the crowd shifted more towards the stage and we waited while the stage was turned over and set up for Jimmy's set.
Its obvious that Jimmy and the band love playing in NYC - it's pretty much hometown for him, and he really feeds off the love and energy in the crowd. He was in a fantastic mood, really smiley, cracking jokes and just having a great time. That just added to the fabulousness of everything. They opened with
Willing
, which is always a crowd favorite and went straight into
Patiently Waiting
, a stark contrast to
Willing
.
Patiently Waiting
is dark and angry and putting the two songs back to back in the setlist is really quite cool.
Devil
was next, which is a brand new song that the band has been playing lately. It has a very
Across the Universe
/Beatles vibe to it, especially in the beginning with the phrasing and the beat of the song. It's also a very "Ours" song. I can't wait to hear that one recorded as well as
The Bells
, as
The Bells
is just kick ass and intense live.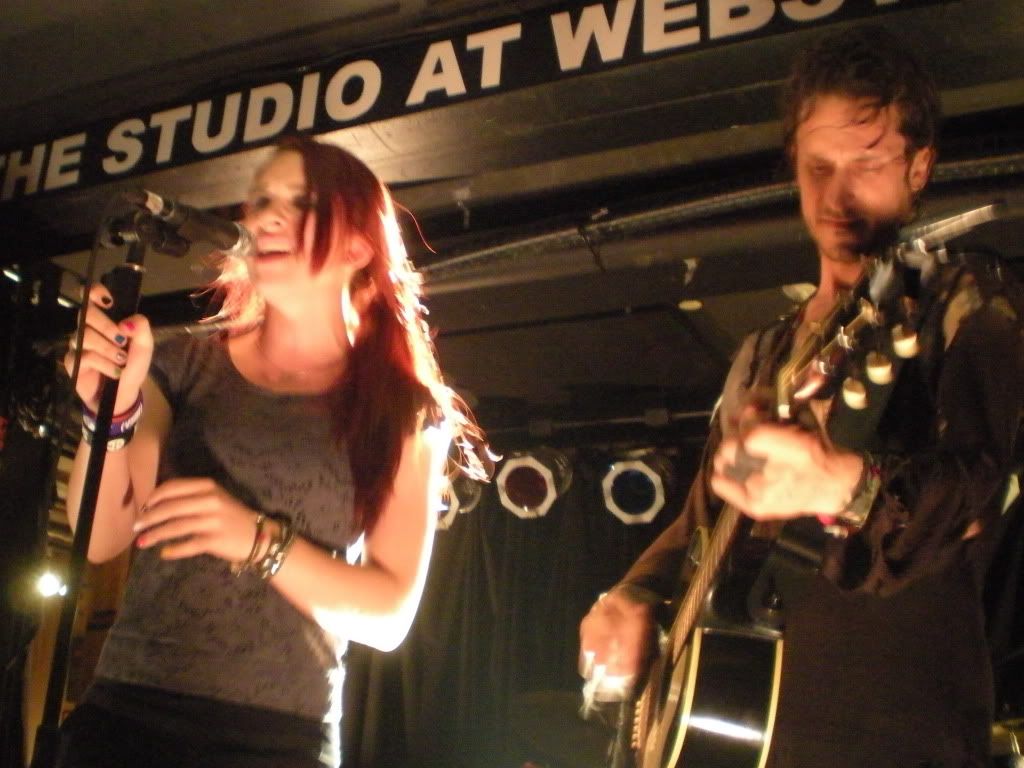 Zoe & Jimmy during Miles Away
We even got a few surprises that night. The first was that Race was there and came up and played with Jimmy on a few songs so Jimmy could be all front-man without his guitar. The second was that Reeve Carney was there and came up and sang
Saint
with him (which he clearly wasn't expecting to do, but Jimmy pulled him up anyway and then plugged his show which was the following week). Jimmy played for over 2 hours that night - went off setlist and everything and we got a lot of songs that I haven't heard live in forever - partial
Shoot the One in the Middle
,
Miles Away,
which is a brand new song that Jimmy wrote that Zoe came up and sang with him,
Worst Things Beautiful
(my request, acoustic), part of
Weathervane
, which is a project Jimmy is working on with Paul Savoy from Ah-Ha, and he ended with
Drowning
which is just as intense as ending with
Fallen Souls
.
This show was just incredible. There was so much love in the room and it really was the perfect way for me to wrap things up. New York/NJ Shows are always fun for me too, because there's so many people there that I know who I usually only see at shows and it was great to see everyone, especially those I hadn't seen for awhile.
Full setlist was as follows:
Willing • Patiently Waiting • Devil • These Are My Hands • Mystery • The Heart • Sometimes • Bring You Home • Days w/extended Jam • Ran Away to Tell the World • Bells • God Only Wants You • Murder • Darling • Gravity • Fallen Souls • Shoot the One in the Middle (partial) • Worst Things Beautiful (acoustic, with Static) • I Heard You Singing • Saint (with Reeve Carney) • Miles Away (with Zoe) • Realize • Light on the Grave/Partial Weathervane • A mystery song that I guess was really old and it doesn't have a title - his sister asked him to sing it • Drowning
I have a few videos.
Please credit them if used.
Miles Away -
Credit: Michelle Dutchen
Saint
- Featuring Reeve Carney
Bring You Home
- Featuring Jess Katz
All of my photos are
here
. Please credit if used.