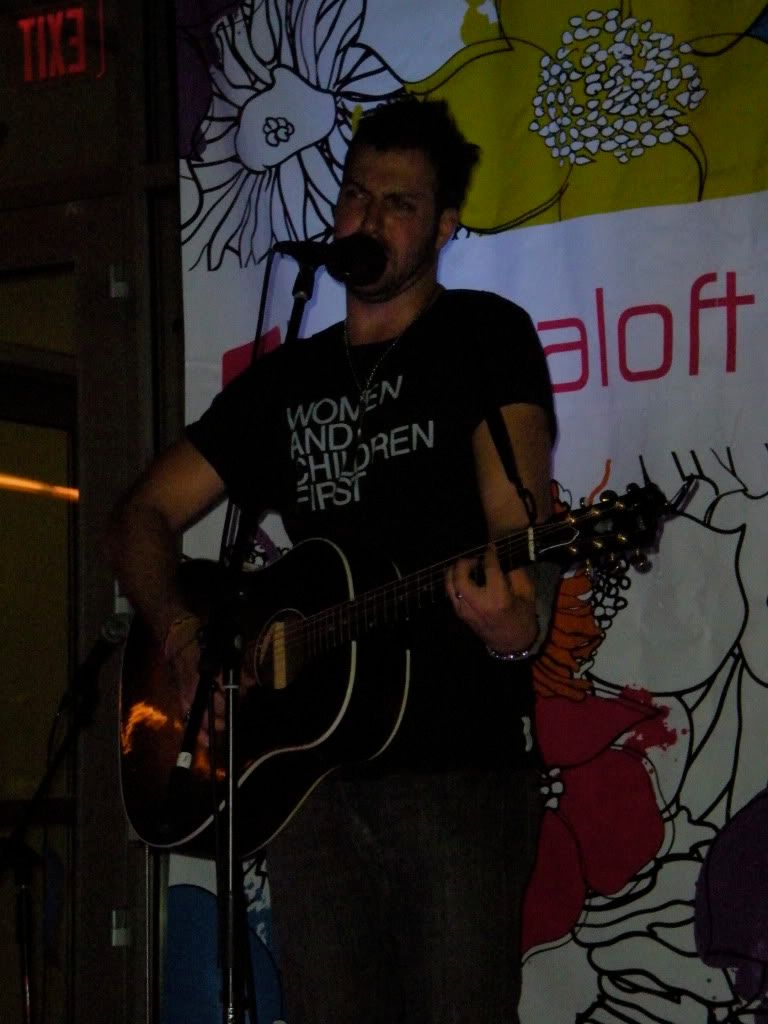 Monday night I had the opportunity to see Ryan Star play an impromptu show at Aloft Hotel in Lexington, MA. It was very last minute, as I had only found out about it at about 3pm that afternoon, but needless to say that when I saw it pop up on twitter, I knew I wanted to go. And I'm glad I did. I arrived around 6:45, met up with some friends at the bar, ordered drinks, and wandered outside to the courtyard where the show was going to be. Ryan had finished sound checking at that point so he came over to say hello to Brooke and myself while Matt Hires sound checked. They eventually both left to get ready for the show, and we went back inside to the bar (Where it was air conditioned!) and killed time before everything got underway. And I'm going to say now that for once, I didn't take a ton of pictures because my camera battery had very little in the way of juice in it since I hadn't charged it for a few weeks. I made do. :)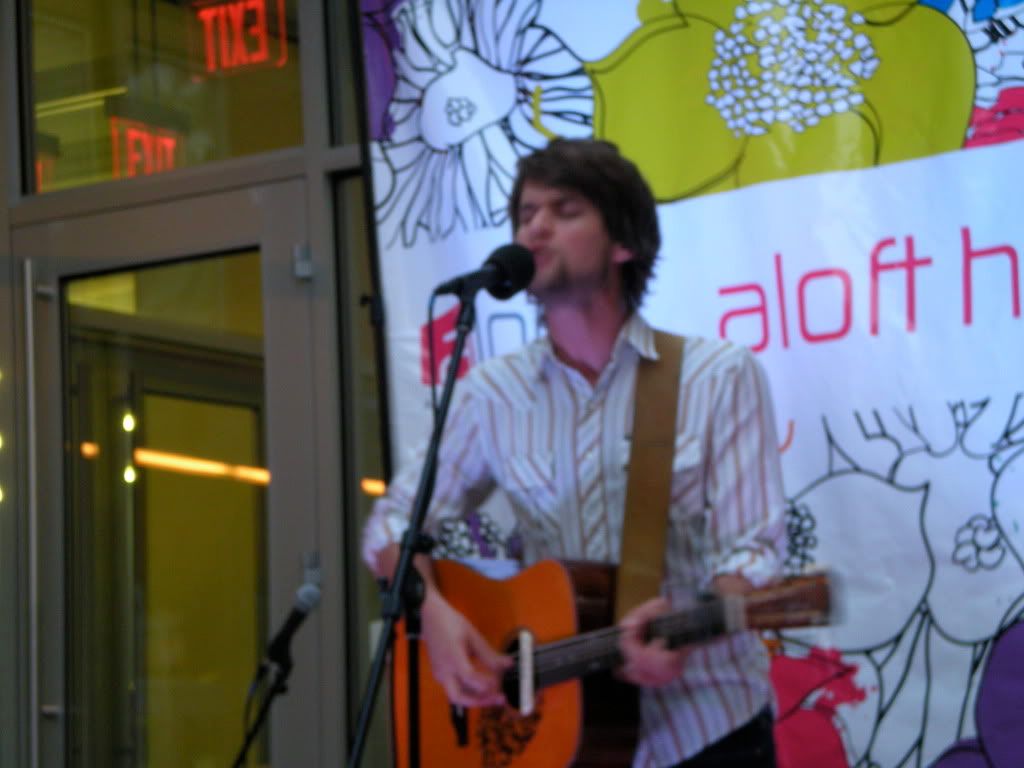 Matt Hires performed first, and I had never heard of him before, other than him touring with Jason Castro earlier this year, but I really enjoyed his set. He sang about 5 songs and I'm definitely going to be checking him out further, because he was excellent. After Matt wrapped up, I leaned over and made a comment to Brooke about how I didn't see Ryan lurking around, and she goes "He's sitting right behind you." I spin around and sure enough he had stood up. Sneaky boy.
Ryan took the stage shortly thereafter and opened with
Brand New Day
. This was the first time I'd ever seen him totally acoustic - every other time has always been full band or with Dallin. He was in great voice and it was a very cool experience to just hear him and the guitar.
Brand New Day
has been a mantra of mine for a little while, as has a lot of his other songs, so its always great to hear that live.
The highlight of his set, at least for me, was when he sang
In Your Eyes
. I'd been dying to hear him do that live ever since I saw the video from Live at the Vineyard earlier this year with the Backstreet Boys backing him up. His version was beautiful and haunting and I was so fortunate to hear it live.
Other than
Brand New Day
and
In Your Eyes
, the complete set list was as follows:
Brand New Day • Last Train Home • In Your Eyes • Famous Yet
(By Request)
• Breathe • Back Of Your Car
(with
Airplanes
and Ke$ha thrown in).
Back Of Your Car
has been what he's been closing with and it's really the perfect song - tons of energy with a lot of innuendo thrown in and it mashes up perfectly with
Airplanes
. We ended up back inside and mingled for a couple of hours, and Ryan had made his way back outside later with about 10 or so of us, as he had promised someone had arrived late that he would play a song for them.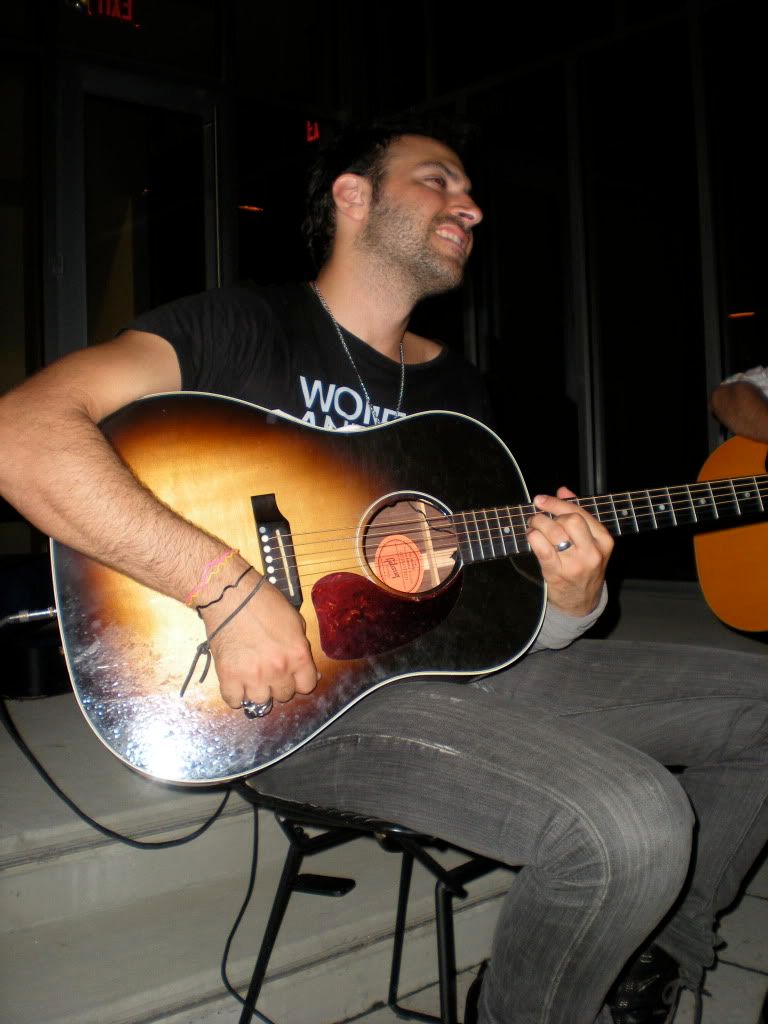 Once we got outside, it turned into a big jam session, and I have to tell you, it was the coolest thing to be able to hang out with Ryan in an environment like that. We got
Start a Fire
(totally unplugged, I'm dying to hear this song live full band),
Head Like a Hole, Psycho Suicidal Girl, 11:59
, and
Breathe
, which was a sing along and in which Matt attempted to use a slide for the first time and failed.. I know Ryan made Matt play a couple of songs that I didn't know the name of, but we probably hung out for about an hour and it was amazing. Finally around midnight, we got told that the desk was getting some complaints from the rooms around the courtyard (We weren't being loud per say, it was just the way the sound was echoing off the building more than likely) and I had to work Tuesday morning, so it was time to say goodbye. I thanked Ryan for an amazing night and he gave me a giant hug and held me - thanked me for coming and said he hoped to see me at the release party on August 3. I was also fortunate enough to meet and talk to Hallie for a long time that night. She is in one word - amazing. So supportive of Ryan and just so laid back and fun.
I finally got home around 1am, stayed up until 2, and paid for it Tuesday at work. It was absolutely worth it. Bottom line - if Ryan comes to your area - go. Don't miss it. He's not only an amazing musician, but an amazing person as well. And don't forget that
11:59
drops on August 3! You can use the preorder button on my page to preorder from Amazon.